This is the time the government 'of the people, by the people, for the people' to listens, understands, and have the best interests of its people in mind. Join other Pettis County Republican's in making our nation, state, and community an even better, more responsive, and enviable place to live.
Register to Vote
Permant Absentee Application
ACCOUNTABLE & RESPONSIBLE LEADERSHIP

Senator Blunt in September at Pettis Republican Headquarters 2016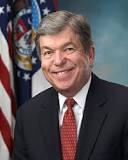 Offical Trailer, "Little Pink House", true story of U.S. Supreme Court "Kelo" ruling.